There were no results that contained
all
of the words in your query. These results contain
some
of the words.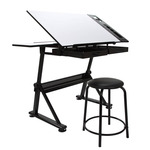 …in a rich black finish, with the metal parts powder coated for resistance to corrosion. All features of the SoHo Urban Artist Table were inspired by artists' needs; so this drafting and drawing table has a pull out side table for extra work space or a place to put a lamp, a storage shelf underneath,…
FROM
$179.99
LIST:$395.00

Welcome to another episode of Prove It!, where Mikey G will test the claim made by SoHo Urban Artist that their 7 mL tubes of watercolor will produce the same amount of color as the leading comparable brand's 20 mL tubes! Using an opacity test as well as experimenting on a sheet of watercolor…
…the SoHo Urban Artist Tote Bag is indeed water resistant and strong enough to handle even the most extreme wear and tear. http://www.jerrysartarama.com/discount-art-supplies/bags-and-backpacks/soho-urban-artist-tote-bag.htmUsing weights, water hoses, fish tanks, and even a car, watch as this SoHo…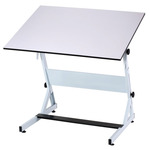 The ultimate artists' drafting table a European classic! Fine art furniture makers Bieffe of Italy have crafted a classic with their Artist Drafting Tables! Available in 2 sizes, the Bieffe Artist Drafting Table is sturdy, simple, and reliable a must-have for the serious artist! The durable…
FROM
$179.99 - $189.99
LIST:$279.95 - $312.95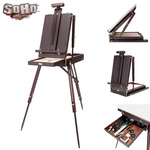 …holder and the top canvas holder are adjustable and serve as a wet canvas or panel carrier after painting. Used by artists around the world let the Soho Urban Artist be your portable studio to paint anywhere at anytime. As with all Soho products it is well made and sold at a very reasonable price.
FROM
$59.99
LIST:$120.00
…pricing! SoHo's brush lin includes Teijin fiber and Golden Taklon, as well as Powercryl, white synthetic filament brushes and premium white hog bristle. This line features a wide variety of styles and sizes to outfit any painter's basic brush needs. Value Brush Sets - SoHo Urban Artist Value Brush…
FROM
$3.49 - $11.99
LIST:$6.75 - $33.00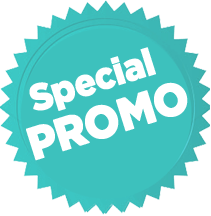 This classically-styled H-frame easel is designed to withstand the attacks of even the most rigorous of artists. Featuring a solid wood construction and brass-plated hardware, the square base ensures the ultimate in stability, while casters allow for easy movement around your studio space.
There were no results that contained
all
of the words in your query. These results contain
some
of the words.
Powered by