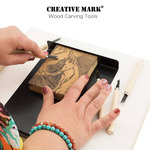 …miniature rasps in a wide range of shapes and sizes. Use for wood, stone and plaster. A must for any sculptor s studio. In plastic sheath. Set of 8. Wood & Lino Cutting Tool Sets - Perfect for wood and linoleum block cutting. Great for carving soft wood such as balsa and pine. Set of 6 or 12.
FROM
$8.39 - $62.09
LIST:$16.70 - $223.55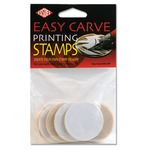 Soft Cut Lino Disks - Create your own stamp designs with these easy carve printing stamps. Made for use with the 3-in-1 Baren Kit. Each package contains 10 disks.
FROM
$4.49
LIST:$5.70
Powered by