There were no results that contained
all
of the words in your query. These results contain
some
of the words.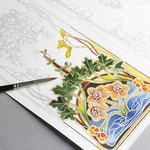 …postcard books. Key Features:* At least 16 sheets of artistic designs* Acid-free, superior drawing paper* Several design books to choose from Perfect For:* Learning about details and color mixing* Reducing stress and anxiety* Artists, students and teachers* Adults to take up art and coloring
FROM
$15.79
LIST:$16.99
Experience the therapeutic and creative benefits of adult coloring books! Jerry s Artarama is proud to carry North Light s extensive line of adult coloring books. Coloring for adults is being hailed as an effective stress-relieving hobby. It is an ideal pastime for anyone with a creative spirit -…
FROM
$9.89 - $11.42
LIST:$14.99 - $18.99
There were no results that contained
all
of the words in your query. These results contain
some
of the words.
Powered by