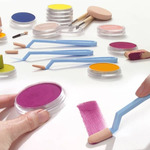 …when used in conjunction with Sofft Covers, make Shapers a versatile and absorbent tool. Sofft™ Art Sponges & Applicators - Sofft Art Sponges are made with our semi-absorbent micropore sponge material. Each sponge has a unique shape and size, designed specifically for artists and crafters.
FROM
$3.60 - $31.99
LIST:$3.99 - $39.99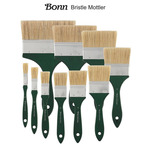 …bristle bundle and ferrule reduce bristle hair shedding on painting surfaces. The Bonn hair blend is very durable and holds up to all surfaces, even rough and irregular ones! Each Bonn Bristle Blend Mottler is handmade in Germany by highly trained artist brush makers. Bonn Bristle Mottlers are…
FROM
$5.79 - $80.89
LIST:$10.10 - $454.90
With special stubby wooden handles for working colors together. Made of select bristle hair with burgundy finished handles.
FROM
$1.82 - $3.41
LIST:$3.30 - $6.20
Powered by