There were no results that contained
all
of the words in your query. These results contain
some
of the words.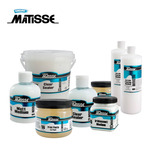 …Under! Acrylic Painting Medium- Increases fluidity without damaging bond. Clear Sealer - Transparent sealant for porous and non-porous surfaces. Cracking Medium - For weathered, antique effects. Drying Retarder - Increases working time of acrylic paints. Fabric Fixative - Turns acrylics into fabric…
FROM
$15.30 - $72.51
LIST:$25.50 - $174.50

There were no results that contained
all
of the words in your query. These results contain
some
of the words.
Powered by