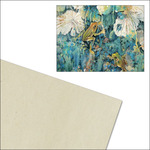 This basic acid-free traditional rice paper is 26 grams in weight and is 70 × 114cm (approximately 27.5" × 45") in size. It has a lovely off white color. Sold rolled in packages of 5 sheets.
FROM
$9.19
LIST:$14.75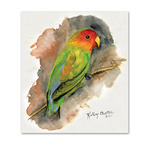 …these papers are processed to take traditional oriental watercolors and they are also excellent for watercolor painting and printmaking. All papers are sold in 10 sheet rolls. The large sheets can be used to make breathtaking and expressive art or can be cut down to make up to 80 small sheets from…
FROM
$9.99 - $12.99
LIST:$20.00 - $50.00

This paper has micro mica sparkles that give a bit of luster to the art. Sheets are 66 x 131.5cm (approximately 26" x 52") in size. Paper has a nice off white tone. Sold rolled in packages of 5 sheets.
FROM
$10.19
LIST:$16.95


Powered by