 OOK® Professional Picture Hanging Wire Spools Picture Wire fits through screw eyes on back of frame for classy and stylish hanging. Braided Professional Galvanized Picture Wire -  * #2 for small - medium size pictures up to 24×36", maximum frame weight of 12 lbs. * #3 for larger size…
FROM
$42.42 - $49.29
LIST:$58.44 - $69.45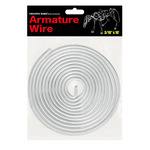 …Wire! An armature is the framework which a sculpture is built around. Sculpture and pottery artists will often use different widths of armature wire for a project, depending on the size of the sculpture and the weight of the materials being used to sculpt the figure. Creative Mark Armature Wire is…
FROM
$7.09 - $17.39
LIST:$13.95 - $32.65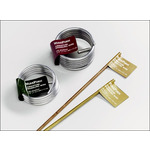 Choose from soft aluminum, sold in coil rolls, or more rigid copper and brass, sold in straight rods. For a variety of art and craft uses including armatures, supports and decorative accents.
FROM
$9.23
LIST:$11.30 …Nibs (set of 2): Featuring one fine and one curved knife nib, this is the best tool to initially learn the art of scratchboard with. Scratchbord Wire Brush: Helps create random textures like hair, grass, and fur. Ampersand Oil-Free Steel Wool: Comes with three grades- fine, medium, and coarse.…
FROM
$5.12 - $25.63
LIST:$7.59 - $40.19 …g/m2 Surface: Medium Customizable Cover Weight: 184 lb. 300 g/m2 Surface: Medium 5.5" x 8.5 Wire Bound (8.5") 70 Sheets 7" x 10" Wire Bound (10") 70 Sheets 9" x 10" Wire Bound (12") 70 Sheets 11" x 14" Wire Bound (14") 70 Sheets Key Features:* Mixed Media Paper Weight: 98 lb. 160 g/m2* Customizable…
FROM
$5.82 - $15.47
LIST:$8.69 - $23.09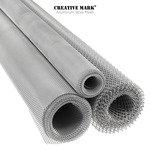 …mâché. Creative Mark Aluminum Wire Mesh has unique raised diamond strands that expand to form three-dimensional shapes. You can transform a flat piece of Wire Mesh into three-dimensional shapes by molding, crimping, twisting, extending, and gathering the wire. Since you can stretch it…
FROM
$19.99 - $30.99
LIST:$41.95 - $314.70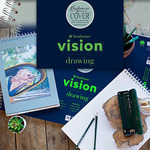 …top sheets with customizable, steel blue, mixed media covers. Tear off the top sheet and reveal your own customizable cover! Key Features: * Wire bound pads * Acid-free drawing paper * Drawing Paper Weight: 64 lb. * Customizable Cover Weight: 184 lb. * Medium-tooth * Durable surface * Tear-off…
FROM
$6.67 - $15.40
LIST:$9.95 - $22.99
WireForm® is a specially manufactured metal mesh that is pliable enough to mold, yet sturdy enough to add structure to clays and modeling materials including AMACO® Sculptamold®. WireForm® is perfect for the many modeling and sculptural design challenges facing artists, crafters, architects, and…
FROM
$28.81 - $50.36
LIST:$36.00 - $69.00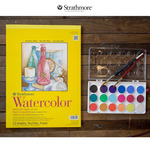 …to a variety of techniques. Each pad contains 12 sheets and is attached with spiral wire binding. Weight: 140 lb. 300 g/m2 Surface: Cold Press Pad Features: Wire Bound Sheets are Actual Size when removed at the wire binding. Type: Heavy weight student-grade paper Note:Watercolor, gouache, tempera or…
FROM
$6.05 - $18.09
LIST:$10.09 - $30.15
…for multiple layers of dry media. It is a thick white heavy drawing paper at 114 lb/185 GSM. Both Sketch and Drawing pads feature a dual loop wire bound construction and In & Out pages (patent pending) that allow you to remove sheets from the pad for sketching, reworking, scanning, and more.…
FROM
$5.59 - $13.27
LIST:$9.45 - $22.25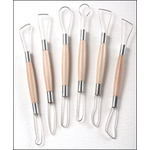 Set of six, 8" long double ended wire clay cutting tools with wood handles and gold colored metal collars. 12 different cutting shapes in all. Excellent value. Wire Bound journals of fine Stonehenge drawing and printmaking paper! Take the finest in American-made drawing and printmaking paper on the road with new Stonehenge Wired Journals By Legion! Superior Stonehenge paper is made from 100% cotton rag, acid-free and buffered with calcium carbonate for…
FROM
$12.49 - $24.49
LIST:$19.50 - $38.50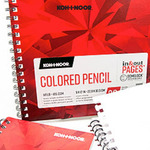 …paper is designed for use with color pencils. It has a durable surface perfect for multiple layers and burnishing. Colored pencil pad is dual loop wire bound construction and features patent pending "In & Out" pages that allow you to remove sheets from the pad for drawing, reworking, scanning, and…
FROM
$6.62 - $11.89
LIST:$11.05 - $19.95