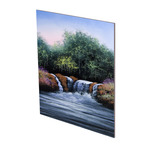 …any application. I am proud and pleased to offer these panels at such a reasonable cost. I don't trust my best work to anything less than the best canvas surface. And neither should you!" - Wilson Bickford, Professional Artist and Art Teacher See More Wilson Bickford Signature Series Art Supplies
FROM
$2.30 - $99.61
LIST:$5.50 - $198.00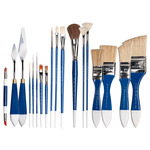 …Wilson Bickford! Choosing the perfect paint brush for a specific task can be somewhat daunting, but now professional artist and art instructor Wilson Bickford has taken the uncertainty out of the equation! This new line of Signature Series brushes has been hand-selected and developed by Wilson to…
FROM
$5.09 - $122.29
LIST:$7.75 - $183.25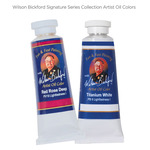 …painting right along with Wilson with his signature line of Artist Oil Colors! * Specifically chosen by master artist Wilson Bickford * High quality, heavy body oil colors in 37ml and 150ml tubes * Ideal for wet-on-wet painting techniques! * Paint along with Wilson with these specially designed…
FROM
$8.79 - $299.99
LIST:$10.95 - $599.99

Expand your painting experience with Wilson Bickford grounds and mediums! Now you can paint along with master artist Wilson Bickford from the ground up! This specially-selected line of grounds and mediums were developed by Wilson to enhance his signature wet-in-wet oil painting style — and now…
FROM
$5.29 - $9.99
LIST:$8.50 - $33.35

…requires no framing. And it has just the right amount of tooth for any style, whether you use a knife or a brush. Its only limits are your own imagination! Add some dimension to your work with BEVEL EDGE!" --Wilson Bickford, Professional Artist See More Wilson Bickford Signature Series Art Supplies
FROM
$38.99 - $99.99
LIST:$101.80 - $750.50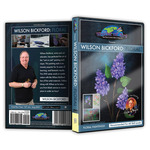 …along with Wilson using the Fun and Fast Complete Painting Kit , and create artwork you'll be proud to hang in your home. * "Mountains" - 147 minutes | Get Supply List This learn-at-home DVD works in combination with the Wilson Bickford line of fine artist materials. Follow along with Wilson as he…
FROM
$19.99 - $192.09
LIST:$29.99 - $444.60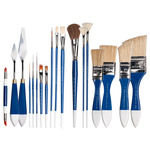 The complete assortment of master artist Wilson Bickford's Signature Series brushes and tools! This convenient, versatile, and all-encompassing set includes one each of every Bickford Signature Series brush and tool, hand-selected by Wilson himself! Specially designed to perfectly complement his…
FROM
$122.29
LIST:$183.25

Paint-Along with Wilson Bickford on DVD to create a beautiful landscape with Lakeside Birch Trees.
New Bickford Signature Canvas Panels are acid free, archival, warp-resistant — and reasonably priced! Made from a base of sturdy, 3mm thick MDF board, they will not bend or bow under reasonable use. The heavy 11.2oz canvas surface is pre-primed with acid free titanium white acrylic primer, and has a…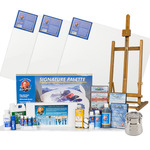 …Sienna, Van Dyke Brown, Dioxazine Purple and Titanium White) * 3 Wilson Bickford Oil Painting Mediums (4oz Quick Dry Fluid Medium, 8oz Glazing Medium and 16oz Black Gesso) * Wilson Bickford Signature Series Palette * Complete Wilson Bickford Brush and Tools Set (18 brushes total) * Weber Odorless…
FROM
$299.99
LIST:$599.99
…Signature Series brush and tool, hand-selected by Wilson himself! Specially designed to perfectly complement his trademark wet-on-wet painting technique, these multipurpose brushes and tools include everything you need for learning alongside Wilson in one of his popular DVDs or book lessons. From…
From the makers of artists' favorites like The Edge and Paramount canvases comes an innovative new painting surface inspired by master artist Wilson Bickford! Made from medium-weight, 100% cotton duck canvas primed with universal, titanium white acrylic primer, these fantastic canvases are the ideal…
For more visit http://www.jerrysartarama.com/art-lessons/Subject/Trees--Plants/Trees--Plants-Green-Meadow.htmlLearn how to paint a green meadow in this free art lesson from professional oil painter and art instructor Wilson Bickford.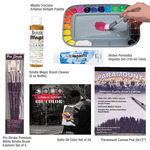 Oil Paint Sets for Beginners - Deluxe oil painting art sets for beginning oil painters! Just starting out? Use only the best art materials and paints when you do. Oil paints are a classic medium, popular for centuries. Some artists may be intimidated to take up this luminous paint, so we've put…
FROM
$69.99 - $303.19
LIST:$122.90 - $772.25
Powered by