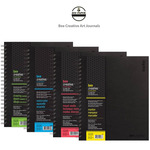 …media perform exceptionally on the paper and allow for great detail. Watercolor Art Journal Weight: 140lb. (300 g/m2) Surface: Cold pressed and toothy Color: Natural white Media: Pencil, pen, charcoal, pastels, watercolor, and acrylic Cold pressed sheet composed of 100% cotton. The European milled…
FROM
$11.59 - $16.29
LIST:$14.95 - $20.95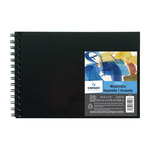 Features acid-free cold pressed 140 lb. Montval paper. Just like the d Arches book, it has a stiff back and large ring binding so they stay flat. Both types are proportioned for landscapes. 20 sheets.
FROM
$20.84 - $34.30
LIST:$31.10 - $51.20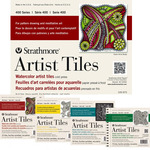 …fine-tooth-surface Sketch Artist Tiles accept drawing pens, gel ink pens, marking pens, and any dry media. Their heavy-weight, acid-free sketch paper contains 30% post-consume fiber. They are available in 70 sheet, wire-bound pads with a perforated edge. * 400 Series Watercolor Artist Tiles The…
FROM
$3.68 - $5.89
LIST:$5.49 - $8.79 …art paper in finely crafted journals! Strathmore 400 & 500 Series Softcover Art Journals give artists the choice of high quality sketch, toned sketch, drawing, watercolor and mixed media papers. The velvety soft, flexible cover is a rich, dark brown color, and the durable Smyth-sewn binding allows…
FROM
$12.32 - $39.12
LIST:$18.39 - $58.39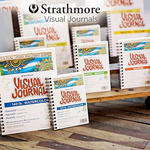 …journal has 28 sheets (56 pages).* Watercolor 90lb Cold Press (190 g/m2) Wirebound Medium-weight paper is great for watercolor, acrylic and collage. Also good for pen and ink, pencil and marker. Acid free. Each journal has 34 sheets (68 pages).* Watercolor 140lb Cold Press (300 g/m2) Wirebound…
FROM
$7.03 - $11.99
LIST:$10.49 - $19.99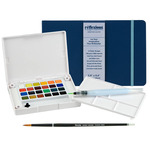 …watercolor sets on the road or plein air painting, so you can create art virtually anywhere! We've gathered together some convenient watercolor sets with everything you need to get started painting in the studio or to put together the ideal travel kit. No matter your skill level, a good watercolor…
FROM
$33.99 - $41.99
LIST:$80.40 - $174.15

…Sketching Kit - Includes 4 graphite pencils of varying lead density, 2 black ink pens with varying nib sizes, 24-page sketchbook, color paper, tracing paper, 20-page instruction booklet, copy grid, pencil sharpener, and eraser. Ages 9+* "Do Art" Watercolor Pencil Art Kit - Includes 10 watercolor…
FROM
$11.99 - $51.78
LIST:$13.00 - $62.50 …Textured matte brown covers * Choose from Recycled Drawing, Toned Sketch, Mixed Media or Watercolor papers Perfect For: * A choice of professional art papers * An elegant presentation * Works in pencil, pastel, & charcoal * Watercolor, acrylic & mixed media * Art that will last generations!
FROM
$13.93 - $93.77
LIST:$20.79 - $139.95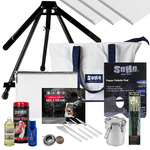 …need to draw and sketch. This set's highlights include a set of Acurit Technical Drawing Pens, Pencil and crayon sets, accessories and more. SoHo Boat Bag Lukas Watercolor Pan Set- Everything you need to start painting with watercolor pans. Makes a terrific gift for the watercolor painter. SoHo Boat…
FROM
$29.99 - $95.99
LIST:$58.44 - $966.25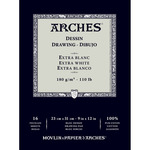 Luxurious, professional drawing papers in convenient pads! From Arches of France comes deluxe Drawing Paper Pads! In the purest Arches tradition in practice since 1492, these new drawing papers are the definition of excellence. Made from acid free 100% cotton with no optical brighteners, Arches…
FROM
$16.80 - $22.92
LIST:$28.00 - $38.20
Learn Watercolor Painting with Professional Watercolor Artist Kelly Eddington! Strathmore partnered with professional watercolorist Kelly Eddington to create this unique Strathmore Learning Series on best practices for starting in watercolor. This instructional pad features Kelly Eddington's…
FROM
$10.04 - $26.99
LIST:$14.99 - $71.34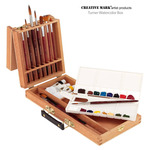 …handle, brass plated hardware, and a folding plastic watercolor palette. The 4 × 8" plastic palette opens to 8 × 8" in size and has 20 small slants, five large mixing areas, a finger slot, and three brush slots. When open, the wooden Turner Watercolor Box features a handy stand up brush holder with…
FROM
$28.39 - $140.29
LIST:$47.65 - $476.50

A Pocket-Sized, 5-In-1 Watercolor Studio! Whether watercolor enthusiasts hike the countryside, scale mountain tops, prospect an ocean panorama or maneuver urban landscapes, Koi watercolor pocket boxes are handy to take along. Lightweight and affordable, on-site watercolor painting is simple with a…
FROM
$5.19 - $48.19
LIST:$7.49 - $76.49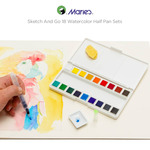 Sketch and Color with Beautiful Watercolors Anywhere! Developed by the largest artists' watercolor manufacturer in the world this set includes 18, light fast and permanent watercolors, a nifty, high quality palette box with mixing area, a water brush pen and a natural sponge. It fits easily in any…
FROM
$25.19 - $31.49
LIST:$45.15 - $109.20
Marie's Sketch and Go 18 Watercolor Half Pan Sets - Sketch and color with beautiful watercolors anywhere!To order, please visit: https://www.jerrysartarama.com/marie-s-sketch-and-go-18-pan-watercolor-setKey Features:Light fast and permanent watercolorsHalf pansHigh-quality palette box with mixing…
Marie's Sketch and Go 18 Watercolor Half Pan Sets - Sketch and color with beautiful watercolors anywhere!To order, please visit: https://www.jerrysartarama.com/marie-s-sketch-and-go-18-pan-watercolor-setKey Features:Light fast and permanent watercolorsHalf pansHigh-quality palette box with mixing…
Marie's Sketch and Go 18 Watercolor Half Pan Sets - Sketch and color with beautiful watercolors anywhere!To order, please visit: https://www.jerrysartarama.com/marie-s-sketch-and-go-18-pan-watercolor-setKey Features:Light fast and permanent watercolorsHalf pansHigh-quality palette box with mixing…
Marie's Sketch and Go 18 Watercolor Half Pan Sets - Sketch and color with beautiful watercolors anywhere!To order, please visit: https://www.jerrysartarama.com/marie-s-sketch-and-go-18-pan-watercolor-setKey Features:Light fast and permanent watercolorsHalf pansHigh-quality palette box with mixing…
Faber-Castell Albrecht Dürer Watercolor Marker Sets – Urban Sketching with Dual-Nib Watercolor Markers.To order sets, please visit:https://www.jerrysartarama.com/faber-castell-albrecht-durer-watercolor-marker-wallet-setsKey Features:Dual-ended markersHighly pigmentedExcellent lightfast ratingsBrush…
Powered by