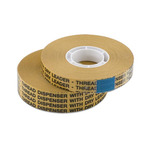 For Mounting & Framing  Designed for use with ATG tape guns. This thin film of double sided tape bonds instantly and permanently and will not dry out or deteriorate. For quick bonding of paper, wood, foil and board. Excellent for matting, mounting and display work. 36 yard rolls.
FROM
$4.49 - $4.99
LIST:$13.39 - $13.69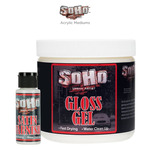 SoHo Acrylic Mediums offer infinite control and can add dazzling texture and effects! SoHo Acrylic Mediums offer many advantages to artists to preserve, add texture or even change the finish of the painting! Each medium is made with premium materials and can extend the effects of your acrylics…
FROM
$2.49 - $6.69
LIST:$3.75 - $11.35 …on the top surface of the transfer paper and the pressure of your pencil will create an impact impression on the backside that can be easily transferred to the skin. Once your design is transferred, trace the design with the henna or jagua. Save your design, you can transfer the designs several more…
FROM
$14.99
LIST:$19.99
The transfer paper that has it all! This great new transfer paper from Jack Richeson has it all! Made of lightweight, waxless paper coated in a dark graphite-like material, you can use it with a stylus or pen to transfer drawings and designs from one surface to another without losing any detail. The…
FROM
$13.43
LIST:$18.25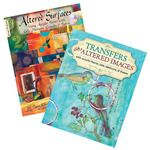 …Materials, Tools and Tips to Transfer and Alter Images, Photos and More! Transfers and Altered Images By Chris Cozen. Everyone is fascinated by the "transfer" process. Making something move from one place to another is a pretty cool trick by anyone's standards. Transfers allow for the seamless…
FROM
$10.19 - $11.59
LIST:$15.00 - $16.99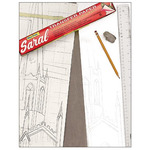 Wax-Free! Versatile! Economical! Use Saral like carbon paper to transfer, trace a design or sketch to another surface any kind of paper, wood, glass, acetate, metal, cloth anything. White for reverse work, non-photo blue for key lines, mechanical and paste-ups, yellows for reverse work on metal, red…
FROM
$10.99 - $19.09
LIST:$31.75 - $35.80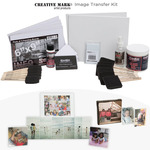 …Creations and Transfer Your Images! Transferring images can turn regular images into beautiful works of art on a variety of surfaces for use in art, mixed media, home decor and design. Take an image from a photograph, vintage magazine, custom design, or pattern and transfer it to the surface…
FROM
$24.99
LIST:$39.95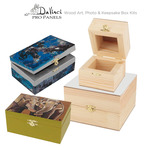 …all the necessary hardware. Created from our popular DaVinci Ultra Smooth Panels, they readily accept drawing media, acrylic paints, image transfers or mixed media applications. Assembly required. Key Features: * Includes all the necessary hardware * Assembly required * Instructions included…
FROM
$12.09 - $14.59
LIST:$20.50 - $24.10
…a variety of artist materials. All sizes (8 oz., 16 oz. 32 oz., and 1 gallon) are available in plastic containers. Mona Lisa Omni Gel - Omni~Gel is an excellent transfer medium. It can also be used to emphasize the brush strokes with oil painting effects, making prints look like original paintings.
FROM
$4.26 - $72.44
LIST:$5.74 - $96.25 …is a line of dry-transfer adhesive dot sheets that allow mess-free, quick and easy mounting of paper, photos, plastic and more. These sheets transfer a fine layer of adhesive dots—repositionable until burnished—ensuring even adhesion on any shaped item. Packs of 25 sheets are available…
FROM
$13.01 - $32.96
LIST:$14.32 - $36.37 …transfers designs with an iron! You can easily customize T-shirts, jeans, bags, jackets, and quilts with Jacquards newly formulated Transfer Paper! Jacquard's Iron-on Transfer Paper allows you to apply original drawings, photos, and text to light colored fabrics with ease. You can run the Transfer…
FROM
$6.88
LIST:$7.19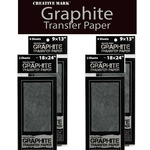 Graphite transfer paper makes replicating your designs easy! Creative Mark Graphite Transfer Paper is made of ultra-thin wax-free paper coated in graphite. This trasfer paper is a must-have for any artist s toolbox. Use Graphite Transfer Paper to trace a design or sketch onto another surface, such…
FROM
$3.59 - $5.49
LIST:$5.35 - $7.75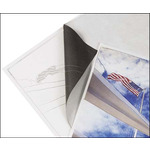 Transfer paper is best suited to cleanly transfer images to another surface. This value pack includes 25, 20×26" sheets of standard graphite transfer paper.
FROM
$32.57
LIST:$46.48
…(I just like to play with paint) but our resident artist here at Jerry's, Amy Gardner Dean, suggested I start off by painting over an image transfer. I thought, WOW, I never even considered that. Basically it's like paint by numbers, but you can choose the paints. The ultimate reference photo,…
Transferring images is easy and fun when you follow along with Sharon DiGiulio in this exciting free art lesson! She'll show you the steps to take for a perfect graphite transfer, as well as one using a xerox image. (Hint: you can never burnish too much!) This is a great art project for encaustic…
For my last project I painted over an image transfer and had a few requests to show, in more detail, how to do just the image transfer. So here it is! There are many ways to do image transfers, this is just one easy way. It's a bit tedious so I suggest starting off with a small project so you don't…
Coloring and coloring books for adults are increasingly popular these days. What's a better way to relax than to simply sit back and color? No pressure to create fine art, easy to set up and start, and no real mess to clean up. The only problem... you can't find a coloring book that strikes your…
…artist Carol Ann Sherman shows you how she transfers a drawing onto a Yupo in this exciting free art lesson. Watch as Carol Ann uses a light box to trace her drawing of a portrait to prepare it for painting. For anyone interested in how to transfer drawings using a light box, this instructional…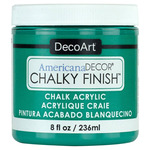 Give your vintage finds and discount treasures a modern bohemian distressed look with easy-to-use chalk paint! DecoArt Americana Chalky Finish Paint is a versatile chalk paint with an ultra-matte finish. Requiring no priming, sanding or complicated prep work, this chalky finish paint adheres to the…
FROM
$7.19 - $11.19
LIST:$8.98 - $13.88
Powered by