…paper! * Portable, easy to carry and travel with * Set encourages traditional working methods * Goat, pony, and badger brush hair as well as pony and goat mixed * Perfect For: * Artists of all Skill Levels * Chinese or Japanese Calligraphy * Sumi-e Brush Painting * Gift Giving- all inclusive set!
FROM
$52.69
LIST:$105.40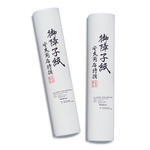 …Paper, also known as Washi, is popular for practicing strokes and experimenting with inks, charcoal, pastel. Washi Kozo (also known as Kozogami) Paper - Is made from mulberry and is designed for use in Sumi-E, calligraphy and paper crafts. Washi Hosho Paper - Is made of sulphite and kozo pulp. It…
FROM
$10.59 - $15.49
LIST:$12.85 - $20.65

…heavy ink stone, ink stick, and the rest of your Sumi-e supplies, Golden Panda has created the perfect travel set just for you! This set includes a water bottle, generously sized rich black ink cake and a pocket-sized case with a recessed mixing area. Combine this luxurious set with any Sumi-e or…
FROM
$7.19
LIST:$9.50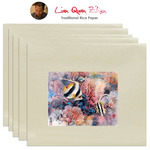 Acid-free, Traditional rice paper Lian Quan Zhen Traditional Rice Paper (5 Sheets Rolled) 70x114cm* Acid-free* Traditional rice paper* 26 grams in weight* 70 × 114cm (approximately 27.5" × 45") in size.* It has a lovely off white color* Sold rolled in packages of 5 sheetsLian Quan Zhen…
FROM
$11.09
LIST:$17.65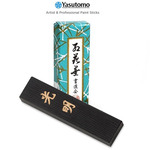 …making Sumi sticks has remained the same. Soot from pine or certain vegetable oils mixed with animal or fish glue is molded and dried to form a well-shaped solid block. The Sumi Ink Sticks are made in the traditional method and is designed for use in Sumi-e Painting. SSB900 Professional Ink Stick:*…
FROM
$5.69 - $11.79
LIST:$6.85 - $15.75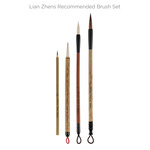 …convenient plastic pouch that is perfect for travel. Key Features: * Set contains four brushes * A mixture of brush hair types * Traditional bamboo handles * Round size #00, #8, #10, and #12 Perfect For: * Chinese painting * Sumi ink painting * Calligraphy * Artists of all skill levels * To view,…
FROM
$19.49
LIST:$29.80 This 100 gram (3.3oz) bottle of black permanent ink is used my many master painters in China.
FROM
$5.49
LIST:$8.10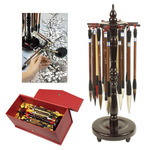 …in your paintings. These Golden Panda sets are a great place to start. As with all the items we sell, satisfaction is guaranteed or your money back! In developing this set, Creative Mark visited master calligraphers in China and asked them to create a set that they would want in their studio to…
FROM
$64.99
LIST:$479.10

…Sumi Ink Sketch Set - Great for travel!To order, please visit: https://www.jerrysartarama.com/golden-panda-black-sumi-e-ink-sketch-setKey Features:Pocket-Sized Case for easy carryingSet contains an ink cake, and water bottleSizable mixing well stores bottle when not in useUse with any style Sumi-e…
Golden Panda Black Sumi-E Ink Sketch Set - Perfect for SUMI-E Painting on-the-go!To order, please visit:Key Features:Pocket-Sized Case for easy carryingSet contains an ink cake, and water bottleSizable mixing well stores bottle when not in useUse with any style Sumi-e or watercolor brushFor more…
Powered by