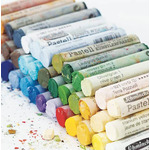 …way Schmincke can guarantee homogenous quality and smoothness in all the production cycles, in order that the artist can be assured that his favorite color shade is consistent throughout our range of finest extra-soft artists pastel colors.  Schmincke Soft Pastels measure 2½" long × ½" diameter.
FROM
$13.29
LIST:$22.80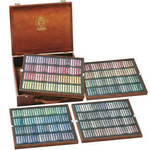 …pastel colors.  Wood Box Set of 400 - The complete assortment includes 400 assorted colors classified in 80 rows with 5 colors each. The range also contains five additional pearl luster effect colors. An amazing treat for any serious pastel artist! All Deluxe wood box sets of Schmincke soft pastels Stained…
FROM
$75.73 - $2288.72
LIST:$113.60 - $3147.00 More details coming soon . . .
FROM
$50.59 - $254.39
LIST:$63.24 - $339.36
Powered by