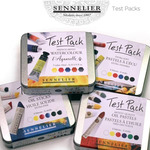 …Sennelier product lines, including: l'Aquarelle Watercolors, Artists' Quality Acrylics, Artists' Quality Oil Colours, Extra-Soft Pastels, Artists' Quality Oil Pastels and Artists' Quality Oil Sticks. Each test pack comes in a small, light tin and include an informational sheet with product and color…
FROM
$5.95 - $16.95
LIST:$29.00 - $70.00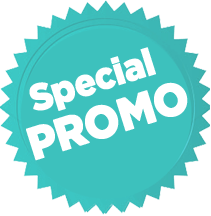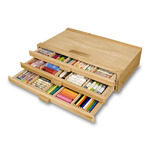 …9½" D × 16" W × 3¼" H natural lacquer finished birch cabinet has three specially slotted drawers that hold virtually any size colored pencil, pastel, pencil, charcoal, erasers, blending stumps, tortillions or other small gear. Drawers may be removed. Key Features:* Birch wood material* Three…
FROM
$32.99
LIST:$51.95 …blend like paint* Ultra thin "glazing" layers won't overfill the "tooth"* Control painterly effects—from intense to delicate pastel marks* Blend and apply dry color like fluid paint* Can be mixed and applied like paint Perfect For:* Painting & Drawing* Painting (with & without pastel sticks,…
FROM
$5.79 - $374.29
LIST:$6.99 - $499.00 …Effect! Water-Soluble Pastel Painting Sticks Charvin, makers of some of the world's finest art materials, have turned their considerable expertise to creating a pastel stick perfectly suited to both wet and dry sketching techniques. Charvin Water-Soluble Pastel Painting Sticks are highly pigmented,…
FROM
$11.99
LIST:$25.50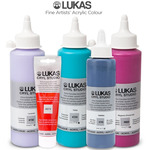 …looking for quality paint at a low price! Using only pigments that rate no lower than 6 to 8 on the international standardized 8-step blue wool scale of light fastness (excluding Glow-in-the-Dark and Fluorescents) and a higher pigment concentration than most economical acrylic paints ensures that…
FROM
$5.29 - $78.49
LIST:$9.35 - $156.95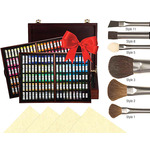 …in pastels or are already a dedicated pastel artist looking for the definitive pastel collection, it can be found right here. From water-soluble pastel sticks to artists' oil pastels and the top of the line in professional soft pastels, these sets are sure to expand your pastel painting horizons!…
FROM
$275.99 - $2170.89
LIST:$424.90 - $3620.62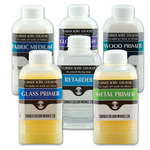 …coat to add gloss on art work as well as mixed with paints. Matte Gel Medium - To make work more velvety and matte. Metal Primer - For safe adhesion to metals. Modeling Paste - Enables matte impasto techniques. Retarder - Slows the drying time of paints. --> Wood Primer - For safe adhesion to wood.
FROM
$9.99
LIST:$26.95 - $41.95

…To Go Kit- This collaborative kit makes the perfect gift for someone experimenting with water soluble pastels, blending and mixing. This set includes a set of Charvin Water Soluble Pastel Painting Sticks, Creative Inspirations Dura-Handle Short Handled Brushes, a Strathmore 300 Series Watercolor…
FROM
$24.75 - $441.99
LIST:$48.45 - $966.25
Tennessee artist Dick Ensing demonstrates how to finish a pastel painting using Mungyo pastels. Follow along as Dick will show you how to use a Vanish Eraser to highlight the clouds and adds colors to really make the painting pop to the viewer. This is a wonderful art project for artists of all… …pastel colors packed in a unique pan format (cake-like). PanPastel Colors Ultra Soft Artists' Painting Pastel Colors are artists' quality soft pastels uniquely packed in a pan format, so that the colors can be mixed and applied like paint, for new effects in pastels, and to make difficult pastel…
FROM
$5.79 - $6.49
LIST:$6.99 - $7.99
…artist Dick Ensing will demonstrate how to add to your pastel painting using Mungyo soft pastels. He will show you how to use darks to reconstruct areas that may not stand out, and explains the importance of progressing from dark to light. This is a great lesson for any pastel landscape artist!
Let collage artist Sharon DiGiulio show you how to incorporate pastels into your encaustic paintings in this exciting free art lesson! Using both oil and pan pastels, Sharon will demonstrate how to add designs, or just give your piece a vintage look. This is a great art project for encaustic…
… He'll show you how to set up a plein air scene using photographs and a digital display, and begin to sketch the drawing using Mungyo Semi-Hard Pastels, paying attention to lights and darks! This is an excellent art project for anyone who wants their landscapes to come alive in their studio!
…impressionist painter Dick Ensing demonstrates how to add water to a pastel painting to blend colors and create more interest. Follow along with this Tennessee artist as he shows you how to make the most of your Mungyo soft pastel set. He finishes with some tips on when not to add water, to avoid…
Powered by