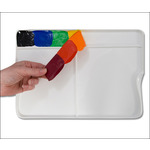 …peeled off the surface and allows oils to be wiped off and cleaned easily. Similar to the Ellipse Small Peel-Off Palette,  except much larger for big projects when you need to manage more paint. Also note the finger or thumb hole.  Mijello Ellipse-XL Peel-Off Palettes are comfortable to the hand…
FROM
$5.99 - $21.89
LIST:$9.95 - $34.95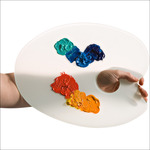 …from tempered safety glass, Paragona Palettes are ideal for painting with oils and acrylics.  Wet oil colors and acrylics can be wiped off in a flash, and dried acrylic paint peels off easily, avoiding the mess and hassle often associated with plastic palettes. Made of 100% tempered safety glass,…
FROM
$25.79 - $38.49
LIST:$35.00 - $49.00 …Made of 1/8" (3mm) clear acrylic, these palettes feature smooth edges for easy holding and a glass-like surface for mixing paint on. They will not break if they fall and allow easy clean up with acrylic colors by means of using denatured alcohol or for oil colors with odorless paint solvents like…
FROM
$3.99 - $14.99
LIST:$15.60 - $45.45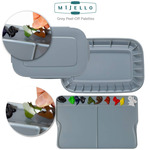 …will appear on the canvas. Made of sturdy ABS plastic and are solvent-resistant, so you can mix oil paints with turpentine or mineral spirits without worrying about damaging your palette. TruColor palettes are also easy to clean: when finished painting, simply wipe or peel the dried paint right off…
FROM
$7.79 - $19.99
LIST:$12.95 - $41.19

…Magic True Color Peel Off Palette, and once the paint dries on the palette, you can peel it right off! The palette looks brand new with every use. Oil colors can also be used on this neutral grey palette. However, they cannot be peeled off once dried. These magical palettes are available in three…
FROM
$3.79 - $5.99
LIST:$10.95 - $21.95

Clear Palette - Just like the one Bob uses on TV! Rigid, sturdy and easy to clean. Disposable Palette - Recommended only for the Ross Soft Oil Colors, this disposable palette has 50 sheets of 25cm x 35cm treated paper. Clean up couldn't be quicker.
FROM
$12.79 - $30.37
LIST:$16.99 - $38.99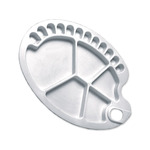 …white plastic palette for doing fast and expressive acrylic painting. The twelve, 5/8" deep small wells are great for placing fluid acrylics and regular body acrylics, while the five, ½" deep mixing areas provide a dam between mixing sections so colors won t migrate. This palette is also excellent…
FROM
$2.99
LIST:$11.50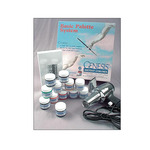 …video, instructional manual and Heat Gun. An economical way for you to get the Genesis experience.  Basic Palette System Set - Our recommended way to get started. Includes nine Genesis Oil Colors, 1 oz. Glazing Medium, informational video, instructional manual and Heat Gun. A great value! Pro Wood…
FROM
$62.39 - $983.99
LIST:$104.00 - $1640.00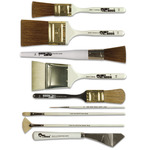 …flat hair. Oval Brush - Pure white bristle hair in an oval shape. With brass plated ferrule and easy to hold handle. Palette Knives - Larger and firmer than conventional palette knives with a straight edge designed to make them easy to load with color. Round Foliage Brushes - With special easy to…
FROM
$3.99 - $15.39
LIST:$5.29 - $20.49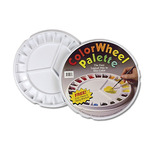 …Way to Mix Color! This white styrene palette makes it easier to mix colors. The 20 individual mixing wells correspond to primary, secondary and tertiary colors in the wheel. The center area of the palette has three large mixing wells. The Color Wheel palette is made of lightweight plastic and comes…
FROM
$16.19
LIST:$24.30 …of specifically formulated flesh and neutral tones of professional artists oils, as well as a unique mixing guide developed by the artist. A must for portrait artists working in oil color. Standard Palette Oil Color Set - These colors have been hand-selected by noted American Portrait Painter,…
FROM
$25.32 - $240.59
LIST:$32.99 - $329.99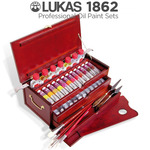 …artists! 1862 Oils Elegant Deluxe 44-Piece set includes:* Mahogany finished 3-drawer "treasure chest"* 27 LUKAS 1862 Oil Colors in 37ml tubes* 7 mediums in 50ml glass bottles* 5 LUKAS brushes* 2 wood-handled steel palette knives* 2 pieces of sketching charcoal* 1 wooden palette PLEASE NOTE: The…
FROM
$120.67 - $511.49
LIST:$257.40 - $1361.75

The palette you choose becomes an integral part of your painting process. Make sure you choose the best palette for your studio with this insightful lesson from Mike Goldstein.
There are a wide variety of brushes available for the fine artist, and choosing the right brush is a major step for any aspiring oil painter. Get some tips from Mike Goldstein before you decide what brush or palette knife is the best for you.
…how to use a palette knife to add detail to an oil painting. Using Charvin oil paints, Dick will demonstrate how he continues to paint from dark to light with the palette knife, accentuating the highlights of the piece. This is a great lesson for anyone wondering how to finish their oil painting!
Powered by