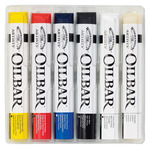 …2 to 7 days. Try this fun, expressive and immediate painting medium with these well balanced and convenient sets, great for travel and field painting!* 6 Color Set - Includes Cadmium Yellow Light, Cadmium Red Medium, French Ultramarine, Ivory Black, Titanium White and Colorless Blender in 50ml bars.
FROM
$35.99
LIST:$59.99
…permanent, and are sold in generous 50ml sticks. Fine, artists' grade oil paint in stick form Newly reformulated to be softer and more versatile! Vibrant, expanded 50 color range in 50ml bars Compatible with tube oil paints, alkyds, oil mediums and solvent Great for field painting! Draw directly on…
FROM
$6.59 - $14.99
LIST:$10.99 - $24.99
With special stubby wooden handles for working colors together. Made of select bristle hair with burgundy finished handles.
FROM
$2.09 - $3.49
LIST:$3.15 - $5.95
Powered by