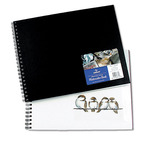 Features acid-free cold pressed 140 lb. Montval paper. Just like the d Arches book, it has a stiff back and large ring binding so they stay flat. Both types are proportioned for landscapes. 20 sheets.
FROM
$18.49 - $31.13
LIST:$29.65 - $48.75 These watercolor pads are spiral bound to keep the sheets solidly in place and are also perforated for easy removal. Sheets are true size when removed as indicated by sheet size. All paper is 140 lb weight and cold pressed. Four sizes to choose from.
FROM
$6.24 - $11.17
LIST:$8.15 - $15.05
Powered by