 Kraft paper with water adhesive. Ideal for stretching wet watercolor paper onto drawing boards. 2" × 25 yard rolls.
FROM
$3.79
LIST:$3.79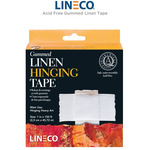 …hinging! Lineco Acid-Free Gummed Linen Tape is a water-activated framing tape with a 65/55 thread count fabric that provides superior strength for hinging, mounting or repair applications. The extra fine thread count helps to make conservation hinges neater and cleaner. This tape is activated and is…
FROM
$32.63
LIST:$53.60
May be used with brush or masking fluid pen. Fine consistency makes it easier to draw with for making reserve works. To remove, just peel or lift with rubber cement pick up. Does not stain the paper surface. Available in 45 ml and 250 ml jar.
FROM
$7.19 - $22.79
LIST:$8.25 - $25.50
Powered by