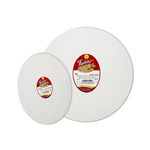 All Fredrix Canvas is mounted to kiln dried tongue and groove stretcher bars for a firm foundation. Fredrix pre-stretched canvas is machine primed under careful scrutiny to provide an artist with the most consistent painting surfaces. Canvases have a 5/8" profile. Acid-free sizing. These unique…
FROM
$27.78 - $120.86
LIST:$52.38 - $215.46
A truly fascinating canvas with a unique convex oval shape. It's an exceptional look that requires no framing. 
FROM
$68.84 - $124.85
LIST:$120.24 - $244.44 …surface that accepts oils, acrylics or stencil paints. Reverse side is single primed for extra body and stiffness. Canvas Placemats come in packs of 4. *Fredrix Canvas Placemats are made from an extra heavy 12oz. cotton. They are double acrylic primed on one side for a smooth and rigid surface.
FROM
$15.61 - $218.65
LIST:$19.96 - $315.28
Powered by