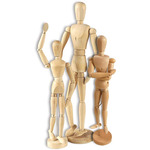 …learn the basics of human figure drawing and sketching, the wood figure manikin is perfect! These smooth, sanded, wood figures are great for teaching perspective and form. Available waxed or varnished for a smooth feel and to capture the gracefulness of the human figure. Both male and female…
FROM
$4.29
LIST:$10.85 - $28.00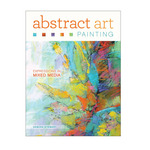 …tips on anatomy, proportion, balance, line quality and gesture drawings. Figure Drawing Master Class: Lessons in Life Drawing - This book is packed with all the information readers require to learn masterful figure drawing techniques, including diagrams, 5 step-by-step demonstrations and…
FROM
$10.99 - $21.79
LIST:$16.99 - $35.00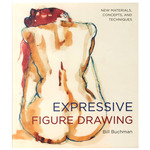 A revolutionary new approach to drawing the human figure! Throughout the history of art, figure drawing has been regarded as the very foundation of an artist's education and the center of the art-making process. Bill Buchman's Expressive Figure Drawing presents the classic fundamentals of this…
FROM
$22.49
LIST:$24.99
…AquaBrique in his figure drawing in this free art lesson. Watch as Bill uses the AquaBrique as both a drawing tool much like a crayon, as well as painting with it like you would watercolor. This is a great art project for any artist looking for new ways to spice up their figure drawings!
Join professional artist Dan Nelson for a free art lesson on how to draw the human figure.
…artist Bob Burridge demonstrates his technique for drawing and painting a loose figure painting using a live nude model. Watch as he goes from the initial sketch to adding in acrylics to give the piece a contemporary feel. This art project is an excerpt from Bob's DVD Loose Figure Painting.
In this exciting free art lesson, professional artist Bill Buchman demonstrates how to effectively use a Sumi-E brush in figure drawing. Using his own line of Zen Brushes, Bill paints wide lines and big shapes to paint the main contours of the female body. This is an excellent art project for any…
…lesson, professional artist Bill Buchman demonstrates the simplified line technique in figure drawing using his own line of Zen Sumi-E brushes. Follow along as Bill explains why he reduces the contours of the figure and shows you how to make strokes instead of painting in order to develop control.…
Powered by