 Dusting brushes are great for easy cleanup of dirt and eraser particles. This brush from Staedtler® features the finest quality bristles and a plastic handle with hanging hole.
FROM
$4.89
LIST:$6.80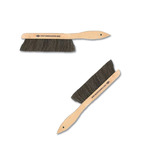 The Alvin dusting brush features a comfortable curved handle and sterilized mixed horsehair in a single row of tufts. This 15-1/2 inch long brush provides a stiff brushing action. The bristles are 7.5" at the base. The brush is 1/2" thick.
FROM
$6.31
LIST:$7.29 Will gently lift away loose particles. Excellent for artists using pastels, chalks, charcoals and other powdery media. With loop end for hanging. 11"  Long.
FROM
$12.84
LIST:$20.10
Powered by