 The Perfect Backdrop for Color Mixing This disposable paper palette offers the unique advantages of mixing on a toned, neutral grey background. Unlike other white colored paper palettes the neutral grey background lets you see color as it will appear on your painting. Each 50 sheet pad comes with a…
FROM
$4.49
LIST:$5.00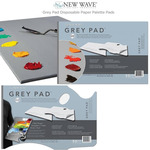 No water or solvents needed to clean these disposable palettes! Enhance your color and value gauging with the Grey Enhance your color and value gauging with the Ergonomic Hand Held or Rectangular New Wave Grey Pad Disposable Paper Palette Pads. When you're finished with painting,simply pull the…
FROM
$10.99
LIST:$14.95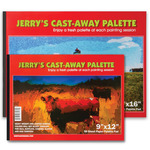 …paint and because each disposable palette pad is made from heavy weight 35 lb coated sheets, worrying about colors bleeding through is a thing of the past. Each paper palette pad comes with 50 disposable sheets so once you finish your painting, throw away your used up palette sheet, grab another and…
FROM
$7.49
LIST:$11.80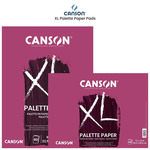 …Ideal for plein air, these disposable Canson palettes feature forty easy to remove, acid-free sheets. Their ultra-smooth surface will make you forget that you're mixing colors on paper! When you're done painting, toss them in the trash! The Canson disposable palettes are available in a handheld…
FROM
$7.48
LIST:$11.15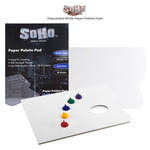 Disposable white paper palette pads - 2x thicker than any other brand A good palette pad must not frustrate you. There are several ways it can. It can wrinkle, it can bleed through and it can be torn from the edge of a palette knife. The Soho Paper Palette Pad features 100 gram coated sheets that…
FROM
$4.99
LIST:$8.50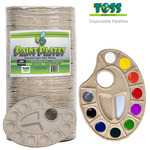 …landfill. It's the safest way to dispose of leftover paint. If using non-toxic, biodegradable paint, you can compost the palette. Key Features: * Recycled paper palette * Ten paint wells and two larger wells for mixing * Non-toxic and disposable * Palette breaks down naturally * Moisture resistant…
FROM
$5.50
LIST:$5.50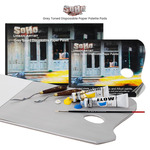 The Disposable Palette Pad that Is Perfect for Plein Air! The SoHo Urban Artist Grey Toned Disposable Paper Palette Pads helps artists see colors more accurately when in direct light, making them perfect to use Plein air or even in your studio. White surfaced palettes may reflect light. One of the…
FROM
$5.22
LIST:$13.20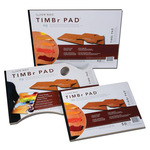 Experience the feel and functionality of a professional wood-toned palette without the clean up! New Wave Timbr Palette Pads are for artists that like working from wood palettes while making clean up easy. Each palette has 50 sheets of warm, wood-toned, highly durable paper stock with a special…
FROM
$7.34
LIST:$10.50 …For Portrait & Figure Painting book at fabulous savings.  Pro Mix Disposable Paper Palette - Designed by John Howard Sanden, this 30 sheet 16×20" palette pad includes a guide for organizing Standard Palette Colors and Pro Mix colors on the palette for Portrait and Figure Painting techniques.
FROM
$25.33
LIST:$33.00 …stock palettes * 11x16" * 40 Disposable pages per pad * 2 styles available * Made in the USA! Perfect For: * Oil, acrylic, gouache and all media * Mixing paint * Ergonomic, comfortable painting * Easy clean up- just throw away Designed with the artist in mind! Disposable White Paper Palette Pads -…
FROM
$9.99
LIST:$13.50
Clear Palette - Just like the one Bob uses on TV! Rigid, sturdy and easy to clean. Disposable Palette - Recommended only for the Ross Soft Oil Colors, this disposable palette has 50 sheets of 25cm x 35cm treated paper. Clean up couldn't be quicker.
FROM
$12.79
LIST:$16.99
http://www.jerrysartarama.com/soho-grey-toned-disposable-paper-palettes40 specially coated disposable sheetsStiff cardboard backingGrey surface does not reflect lightIdeal tone for mixing natural and lifelike colors2 different styles & sizes: Rectangular-shaped pad or pad featuring a thumb…
…from recycled paper, the Toss Paint Plates Disposable Palettes are non-toxic and biodegradable. Now, there's no need in contributing to water pollution by washing paint down the drain. Toss Products has developed Paint Plates™—100% recycled paper palettes designed to help artists, teachers, and…
…of the SoHo Grey Toned Disposable Paper Palette Pads are that when you are finished with your paints for the day, you can tear off the used sheet and throw it awaySee colors more accurately - Grey surface does not reflect lightKey Features:40 specially coated disposable sheetsStiff cardboard…
Powered by