 A great little tool for plein air painters. Adjustable opening with graphics for common support sizes in inches and centimeters. Graphics also include a grey value guide and color compliment chart. Instructions for use included. Shirt pocket size, 3.5x5".
FROM
$4.76
LIST:$5.49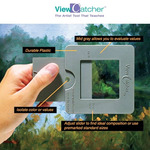 …color. It opens vertically or horizontally to help you find the right composition. It allows you to view your subjects without the distraction of surrounding elements. With it you'll be able to create stronger compositions, choose accurate color values and provide a clear vision of warm and cool…
FROM
$9.89
LIST:$12.49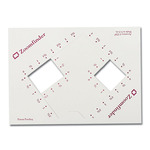 …The ZoomFinder works similarly to the view finder on a camera* Offers rectangle and square compositions* Use the ZoomFinder to improve your composition and proportion abilities* A handy tool for composition purposes* Product Dimensions:8 x 6 x 0.1 inches* Item Weight: 4oz. Use the ZoomFinder to help…
FROM
$12.99
LIST:$23.55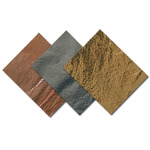 Available in loose sheet format. The sheet size is a standard 5.5"x5.5" square. Composition Gold is a mixture of brass, copper and zinc. Composition Silver is made of pure Aluminum. 
FROM
$11.59
LIST:$17.10
…thumbnail sketches for composition. Whether you intend your finished work to be in pencil, pen, painting, or even a block print, good composition is an incredibly important factor for making successful artwork. So what makes a good composition? What makes a great composition? What about a terrible…
Join professional acrylic artist Bob Rankin for an exciting Free Video Art Lesson demonstrating composition. Learn the tips and tricks to help you see the ordinary in an extraordinary new light.Free Art Lesson Seen Here -…
…or even a block print, good composition is an incredibly important factor for making successful artwork. So what makes a good composition? How does one look at a subject matter and start to plan how to portray it, dynamically??? From successful basic compositions to the more complex, learn firsthand…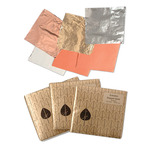 Composition Leaf - is available in two varieties in loose sheet format. The sheet size is a standard 5.5"× 5.5" square. Composition Gold is a mixture of brass, copper and zinc. Composition Silver is made of pure aluminum. Sold in either 25 leaf books or packs containing 20 books (500 leaves).…
FROM
$11.59
LIST:$17.10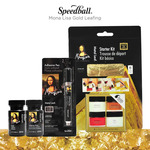 …- Sets include 1 adhesive pen and 6 sheets of simple leaf. Available in gold and silver. Gold Leaf Starter Set - Set includes 6 sheets of composition gold metal leaf, metal leaf adhesive, water-based sealer, red basecoat, antiquing glaze and instruction guide. Mona Lisa Red Basecoat - Water-based…
FROM
$3.57
LIST:$4.78
Powered by