There were no results that contained
all
of the words in your query. These results contain
some
of the words.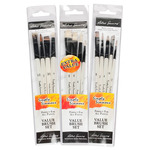 …effects brush sets! Original Simply Simmons decorative painting brushes are now available in a wide selection of conveniently themed sets! Whether you're looking to paint realistic grass or fur, create microscopic details, make smoothly transitioning shade gradients or more, these excellent brush…
FROM
$7.49 - $11.29
LIST:$10.80 - $16.25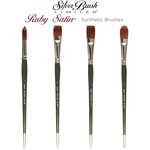 Stiffness Watercolors Acrylics Oils Interlon hair provides a "bounce back" effect while painting in acrylics! Ruby Satin is a revolutionary synthetic brush with the control and feel of interlocked bristle. They are even more durable than natural hair! Ruby Satin offers a vast choice for artists…
FROM
$3.48 - $19.16
LIST:$8.70 - $47.90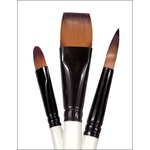 …these brushes are made to last. A wide range of specialty shapes and sizes makes for a limitless selection of special painting effects! However, one of the best features of Simply Simmons Original Decorative painting brushes is their incredible value, with one low price for each fantastic brush! *…
FROM
$2.89 - $3.39
LIST:$4.20
…traditional Chinese subjects: prawn and the 10 basic brush strokes; swallow birds; bamboo in calm weather; bamboo in wind; hibiscus flowers; horses and cowboy. He shows you how he arranges his working area, selects materials, mixes ink, holds his brush and makes his strokes with multiple close up…
…Grey Matters Brushes – different bristles are mixed to accomplish very specific firmness or softness Can a grey Matters Oil Brush be used for acrylic painting? YES!!! If the painter desires a softer brush head when painting. Can I use my brushes for both Oil and Acrylic paint (Interchange)?…
FROM
$14.77 - $34.49
LIST:$29.95 - $69.95 Grab your Creative Air Artist Complete Brush Set and Let's Get Started! DVD Title - "Body Painting with Living Brush"* Description - Join artists Scott Fray and Madelyn Greco as they teach you how to body paint using an airbrush from start to finish! Using the Creative Air Artist Complete Airbrush…
FROM
$6.99
LIST:$29.99

There were no results that contained
all
of the words in your query. These results contain
some
of the words.
Powered by