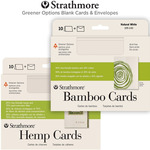 …waste fiber Bamboo Cards Ideal for use with paints, screen prints, stamps, block prints, collage and more. Made with 90% tree-friendly bamboo and 10% cotton.* 98 lb. (265 g/m2)* Laid finish - natural white* 10 Cards & Envelopes/Pkg* Acid-Free* Made with 90% tree-friendly bamboo and 10% cotton
FROM
$8.26
LIST:$13.49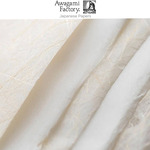 …professionals Bamboo, 170gsm: Made with environmentally friendly bamboo, this sheet has a small ecological footprint. Bamboo Select is slightly heavier than other washi with a lovely soft surface making it ideal for intaglio, block-printing, and letterpress. 70% Bamboo, 30% Recycled. Bunkoshi,…
FROM
$14.21 - $238.99
LIST:$18.95 - $298.75 …are the very first brush mats with an elastic top strap to firmly hold large handled brushes as well as short handled brushes. Features soft fabric pockets and tie strings. Just roll up and store brushes safely anywhere. Not recommended for fan shaped brushes. Available in natural or black bamboo.
FROM
$7.99
LIST:$15.25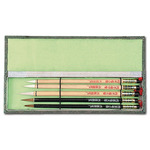 A true bargain! Set of 5 - An outstanding collection of five brushes, three with sheep hair and two with red sable hair. All with traditional bamboo handles with hanging loops at the ends. Use to make expressive sweeping strokes for Chinese or traditional watercolor painting. In deluxe silk box.
FROM
$18.69
LIST:$37.35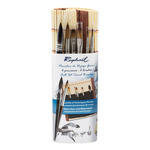 …handle brushes have a securely stitched pocket in the included bamboo roll up case. The next time something catches your eye unroll your Raphael Precision Mini Brush Travel Set and start painting! Key Features:* 6 mini brushes* Bamboo roll up case* High paint load Perfect For:* Watercolor, gouache,…
FROM
$17.47 - $33.12
LIST:$33.60 - $63.70
Bamboo
$69.41
LIST:$131.96 Bamboo
$10.89
LIST:$15.10 hard, strong, hand-carved bamboo! These pens are a traditional sketching tool made out of hard, durable bamboo shafts which are carefully hand-carved to the perfect shape. Ideal for black line drawing and calligraphy with liquid Sumi ink, Golden Panda Bamboo Sketch Pens are available in four sizes.…
FROM
$3.09 - $5.19
LIST:$5.40 - $11.90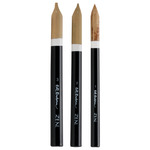 …pen style to your own drawings with Bill Buchman Bamboo ZEN Pens! Key Features: * Designed by professional Sumi-e artist, Bill Buchman * Three Point sizes available for line variety * Clean, beautifully lacquered handles * Traditional Bamboo construction Perfect For: * Inks, Watercolors, and…
FROM
$13.69
LIST:$20.25
Bamboo
$18.89
LIST:$31.35 Truly a treat for any watercolor enthusiast! Most professionals today have added at least some of the incredibly lightfast Holbein Artist Watercolors onto their palette. Watercolors such as Peacock Blue, Blue Grey, Opera, Grey of Grey have been gracing the studios of the world's great watercolorists…
FROM
$8.91 - $21.58
LIST:$16.95 - $41.00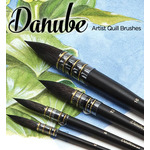 …based on diameter in mm * Size 6 is true 6 mm diameter Perfect For: * Textured watercolor paper * Both heavy washes * Controlled lines * Studio or Travel Danube Watercolor Quill Set - This set includes a size 6, 10 and 14 along with a black bamboo brush roll up. Great for travel or in the studio!
FROM
$31.29 - $79.99
LIST:$58.05 - $243.20
Bill Buchman Bamboo Zen Pens - Professional quality reed pens designed by figure artist Bill Buchman!To order, please visit: https://www.jerrysartarama.com/bamboo-zen-pensKey Features:Designed by professional Sumi-e artist, Bill BuchmanThree Point sizes available for line varietyClean, beautifully…
…Mark Tao Bamboo Table Easel And Drawing Stand - Perfect For Work On A Desk Or Table- Lightweight & Sturdy, Great For Transporting!To order, please visit: https://www.jerrysartarama.com/creative-mark-tao-bamboo-easel-and-drawing-standKey Features:Beautiful bamboo finish: Made of renewable bamboo…
Dali Deluxe Bamboo Wood Eco-Friendly French EaselSee product details here: http://www.jerrysartarama.com/dali-eco-friendly-bamboo-french-easelCapture the beauty of nature in your paintings without harming the environment with the lovely, eco-friendly Dali easel! Admiration of the world around you…
Powered by