 …allowing for repeated access while keeping out dust and dirt.  Bags are made to fit the sizes indicated below, and have a 1/8" tolerance for the Trading Card Packs, ¼" tolerance on both sides up to 13×19", and a ½" tolerance for sizes 16×20" and larger. Compared to all other available means to…
FROM
$1.00 - $4.99
LIST:$5.50 - $253.00

…revolutionary new Artist Trading Card (ATC) boards, they have also designed a line of additions and accessories to enhance them! Make even tinier cards or build up layers with Inchies or Rinchies, create miniature booklets with double-sided Chunky Book pages, display cards in Protective Sleeves…
FROM
$1.84
LIST:$3.25
…is even an adhesive board for displaying digital printouts! Design them, display them, trade them with your friends: the world of miniature art has expanded exponentially with these unique new Artist Trading Card boards from Crescent! Acid free and heavy duty Sturdy board construction is less likely…
FROM
$1.84
LIST:$3.25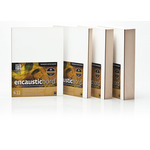 …surface. Encausticbord is available in various depths for multiple display options: 1/8" and 1/4" flat panels, 7/8" and 1 1/2" cradled panels, and 2 1/8" DEEP gallery cradled panels for maximum support. Deeper cradled panels give artists the benefit of a gallery-style, frameless presentation.
FROM
$4.54 - $180.44
LIST:$6.94 - $462.70 …for mixed media applications including oil paints and sticks, collage, image transfer, incising and more, and the durable bond offered by the ground means that fantastic textures and thick layers can be built up on its outstandingly receptive surface. Now available in fun Artist Trading Card size! 
FROM
$4.54
LIST:$6.94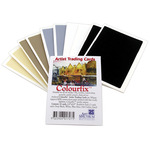 …Colourfix Artist Trading Cards are made of 240 lb. watercolour paper printed with fine tooth, lightfast, Colourfix acrylic primer and are sutiable for all media! Sized at 2.5" × 3.5", these cards are available in packs of 10 or boxes of 100 (ten 10 packs). Assorted selection includes 2 cards of each…
FROM
$3.99 - $33.99
LIST:$4.99 - $49.90 …& Photo Bags for Your Artist Trading Cards! Now you can protect, send and give your valuable playing cards sized 2½" × 3½ with these low priced, easy to use classic bags.  * Archival and crystal clear * Provides a professional finish * May easily be resealed * Perfect for Artist Trading Cards
FROM
$1.00 - $4.99
LIST:$5.50 - $44.00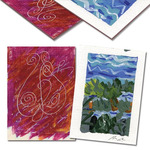 These 2.3mm thick cards measure 2.5x3.5" and are made for use with acrylics, oil colors, pastels and chalks, alkyds, caseins and mixed media.  Use with ATC Krystal Seal bags, ATC Eternity Boxes and Viewpoint ATC Mats. Sold in Packs of 5 and Box of 20 Packs.
FROM
$1.69 - $15.29
LIST:$2.50 - $50.00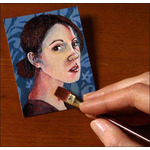 …small! Our bestselling fine art papers are now available in official Artist Trading Card size so you can create, swap and collect art with artists from around the world. Precision-cut for a clean surface, these convenient cards are available for a range of mediums drawing, watercolor, acrylic,…
FROM
$1.99 - $43.03
LIST:$2.99 - $70.49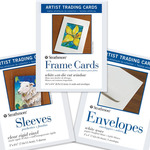 Envelopes - Protect trading cards in white wove envelopes. Frame Cards - These tri-fold cards feature a cutout window which accommodates an ATC (2.25" × 3.25" opening). Cards slide easily into the pocket and provide a great way to display or send your trading cards. Envelopes are 3.625" × 5.125".…
FROM
$1.99 - $36.63
LIST:$2.99 - $73.08 For framing your favorite Artist Trading Cards! These acid-free mats are made of 4 ply museum quality mat board, cut on a 45º bevel to fit Artist Trading Cards. All feature 2.25 × 3.25" inside cut outs that leave a full 1/8"  around your Artist Trading Card.  Choose from single mats in packs of 10…
FROM
$11.69
LIST:$30.30 - $31.70


Bob Rankin explains how to have fun with artist trading cards.
Bob Rankin shows you how to draw an abstract image on a Strathmore Artist Trading Card.
Watercolor artist Tom Jones paints a marsh scene on a Strathmore Artist Trading Card
…monoprinting plates, but are more durable, and can be stored at room temperature. Perfect for getting started in printmaking, making artist trading cards and even quilt-making. Gelli Printing Plates are portable, flexible, easy to use and can be used without a press, making them revolutionary…
FROM
$12.59 - $29.99
LIST:$13.99 - $72.99
…or trade with other artists anywhere. A great way to build an art collection! These DVDs are designed to give you inspiration and ideas for creating your own cards. Start trading now! Recommended for all skill levels.  You Might Also Like Strathmore Papers are now available in trading card sizes!…
FROM
$6.99
LIST:$29.99

Powered by