There were no results that contained
all
of the words in your query. These results contain
some
of the words.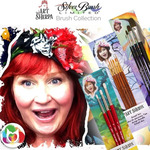 …Contains Round #3/0, #0 & #1, Bright #0 & #2, Liner #2/0. Perfect for fine lines and details. Makes grass, twigs, fur & hair easy. The secret weapon of beginner realism. V27583 - Galaxy Brush Set (Multi Media). 4 Unique Art Sherpa tools. Contains 2 Splatter Brushes, Silver Brush® Crystal Round #0…
FROM
$2.59
LIST:$4.70 All Fredrix Canvas is mounted to kiln dried tongue and groove stretcher bars for a firm foundation. Fredrix pre-stretched canvas is machine primed under careful scrutiny to provide an artist with the most consistent painting surfaces. Canvases have a 5/8" profile. Acid-free sizing. These unique…
FROM
$26.19
LIST:$52.38 A truly fascinating canvas with a unique convex round shape. It's an exceptional look that requires no framing. 
FROM
$42.64
LIST:$85.28 Made of pure Chungking Bristles These large round brushes were created for the French house painting industry and have been used for hundreds of years. Artists at that time and now have enjoyed the value and quality of these brushes for painting large size paintings or murals. Creative Mark has…
FROM
$22.79
LIST:$55.20

Made out of the tails of Kolinsky red sable. Each brush is shaped to provide more spring to the fine point and to hold lots of color due to their large bellies. With seamless nickel ferrules and black polished handles. Sizes up to size 8 are exactly the same as Winsor & Newton Series 7, larger…
FROM
$13.61
LIST:$24.75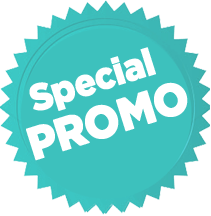 …convenient for travel. Available in round or rectangle erasers, the refillable erasers will erase cleanly without damaging the paper being worked on. Key Features: * Ultra-fine precision tip (round & Rectangular) * Refillable * Available in rectangle or round * Pen style body * Phthalate free *…
FROM
$1.99
LIST:$1.99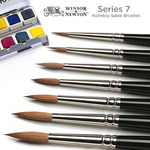 …years of brush making experience before being allowed to work on the Series 7 Brushes! Key Features:* Pure Kolinsky Sable Bristles* Short handle round brushes* Responsive spring and snap* Seamless nickel plated ferrules* Handmade in England by skilled craftspeople* Click on Yellow Icon next product…
FROM
$11.39
LIST:$18.99 Performance minded super strong filament hair brushes that withstand harsh painting techniques even on rough surfaces. They offer a quick, and flawless brush response coming to a split-proof, extra fine point or a neat hard edge. These brushes feature up to 1" seamless nickel plated ferrules…
FROM
$38.88
LIST:$74.35 Performance minded super strong filament hair brushes that withstand harsh painting techniques even on rough surfaces. They offer a quick, and flawless brush response coming to a split-proof, extra fine point or a neat hard edge. These brushes feature up to 1" seamless nickel plated ferrules…
FROM
$4.35
LIST:$7.30