A highlight of the events from the 2010 Art of the Carolinas.Art of the Carolinas is a four-day art convention located in Raleigh, NC. It hosts dozens of artist workshops, demonstrations, and one of the largest art supply trade shows around!It is always two weeks before Thanksgiving, so mark your…
A highlight of the events from the 2010 Art of the Carolinas.Art of the Carolinas is a four-day art convention located in Raleigh, NC. It hosts dozens of artist workshops, demonstrations, and one of the largest art supply trade shows around!It is always two weeks before Thanksgiving, so mark your…
It's that special time of year again, where I go around our annual Art of the Carolinas trade show looking for trouble.  Join me as I interview the artists and demonstrators, look at the sights, lick some paper, and eat hot dogs.  It truly is fun for all.
Art of the Carolina's is Jerry's premier annual art and art supply trade show.  It's a great event that I some how turn into my own little circus.  If you can make it out to the show, I'd love to meet you, but for those that can't I want you to feel included anyway.  Am I great, or…
…biggest art trade show in the south, the Art of the Carolinas! He'll go through the "must do's" of this three day event, from signing up for workshops to taking the free limousine over to the Jerry's Artarama retail store, and even meeting Jerry himself! Mark your calendars now for the 2012 Art of…
Mark your calendars now for Art of the Carolinas 2010! AOC is the biggest national art event, featuring professionally instructed artist workshops in every medium and special art supply bargains that you won't find anywhere else. Friday, Saturday and Sunday, November 12, 13 and 14, 2010.Workshops…
There's always new and exciting products at Art of the Carolinas! Join us for the 2015 Art of the CarolinasThe Greatest Art Supply Expo,Workshops & Super Sale - http://www.artofthecarolinas.com/Friday, Saturday and Sunday,November 13, 14, 15, 2015.Workshops begin on Thursday the 12thENTRY IS FREE -…
Jerry's LIVE from Art of the Carolinas - Meet Sharon DiGiulio, the Queen of AOC!
Jerry's LIVE at Art of the Carolinas - Sunday Morning Preview (JL82)
Jerry's LIVE at Art of the Carolinas - Painting Demos on the Trade Show Floor (JL82)
Jerry's LIVE at Art of the Carolinas - Trade Shows and Demos (JL82)
Jerry's LIVE at Art of the Carolinas - Behind the scenes at the Artist Workshops (JL82)
Jerry's LIVE at Art of the Carolinas - Sneak Peak at Workshops and Trade Show (JL82)
Exciting videos on art supplies, prove it marketing claims, Free Video Art Lessons, product demos all from the leader online for art supplies and materials, JerrysArtarama.com
Exciting videos on art supplies, prove it marketing claims, Free Video Art Lessons, product demos all from the leader online for art supplies and materials, JerrysArtarama.com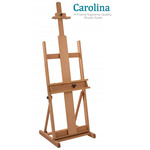 Top selling easel that is sturdy, functional and assembles in minutes! Carolina H-Frame Supreme Quality Studio Easel Supreme Quality Beechwood Studio Easel - Paint Pictures As Tall as 84" High!, Super Sturdy Easy Assembly It is no secret why this easel is a best seller here at Jerry's Artarama; it…
FROM
$142.99
LIST:$361.15

Powered by