There were no results that contained
all
of the words in your query. These results contain
some
of the words.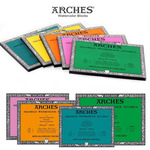 …and Rough (high texture) Press surfaces. Each block contains 20 sheets glued on all four sides. * 300lb Blocks (640gsm, 10 sheets)Sizes: 9x12", 10x14" & 12x16" - These Cold Press (medium texture) blocks feature 10 sheets of heavyweight, 300lb Arches Natural White watercolor paper, glued on all four…
FROM
$16.62 - $94.32
LIST:$27.70 - $157.20 Perfecting the art of papermaking since 1492! Each ARCHES® Watercolor Pad holds 12 sheets of natural white, 140 lb (300 gsm), 100% acid-free cotton paper. Perfect for Plein air painting and travel, ARCHES® Watercolor Paper is ideal for watercolor, gouache, ink, acrylics, and drawing. Made on a…
FROM
$14.43 - $25.23
LIST:$24.05 - $42.05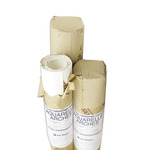 …Styles * D-Arches 51" - 156 lb (356 gsm) * D-Arches 44" - 140 lb (300 gsm) * En-Tout-Cas 52" - 134 lb (280 gsm) 51" Wide 156 lb wt. - Extra wide rolls of D'Arches 100% rag watercolor paper that is approximately 11% heavier than conventional 140 lb (300 gsm) weight paper. Available…
FROM
$138.54 - $209.73
LIST:$230.90 - $349.55
…robust surface, Arches Rough provides just enough texture allowing for easy working and strong enough to maintain its character even after reworking. The Rough texture is also used by watercolorists, airbrush artists and acrylic painters. 260 lb. is approximately the same weight as 140 lb. paper but…
FROM
$22.89 - $696.00
LIST:$54.50 - $1160.00

…100% cotton rag watercolor paper from Arches is considered the most popular in the world! Each gelatin-sized sheet has four deckle edges and may be repeatedly erased and over-painted on, while still maintaining its beautiful surface quality and integrity. Arches watercolor paper is available in all…
FROM
$43.20 - $595.80
LIST:$72.00 - $993.00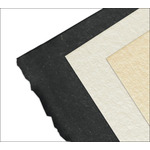 This famous heavyweight, mould-made sheet is 100% cotton, acid free and buffered. It has a visible, slightly flattened grain, deckle edges and a registered watermark. An excellent choice for lithography, intaglio, silkscreen, collotype and drawing, it is also suitable for embossing and foil stamping…
FROM
$38.20 - $507.50
LIST:$76.40 - $1015.00
There were no results that contained
all
of the words in your query. These results contain
some
of the words.
Powered by