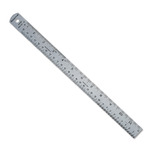 Calibrated two edges, one side Inch/metric graduations. Cork backing prevents slipping and raises ruler from work surface to eliminate ink smears. Packaged in protective plastic sleeve.
$11.81
LIST:$13.60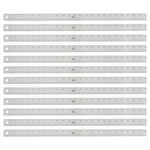 …art class, home or en plein air. Key Features: * Meticulously accurate rulers * Crafted from stainless steel * Break proof, rust proof * Cork backing to prevent slippage * Available in 4 different sizes - 12", 15", 18" and 24" * Numbers are clear and easy to read * Solid straight edge and grip on…
$41.99
LIST:$151.20

Square metal core coated with light blue wear resistant plastic. Easy to read inch and metric graduations. Instantly adjustable and retains shape without support.
$13.97
LIST:$19.25
Powered by