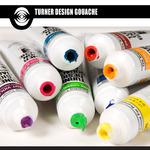 * Watersoluble * Brilliant and opaque * Beautiful matte finish * Imported from Japan Turner Design Gouache is considered as one of the world's premier opaque watercolors. Much of Turner's fame comes from this line of color used by New York textile designers, graphic designers and artists for…
FROM
$4.59 - $7.39
LIST:$11.75 - $19.50

…Acryl Gouache colors, and a color mixing guide that helps you create 120 colors from the 12 in the set! Perfect for introduction to color mixing, with a fail-safe guide. See tech notes for entire list of set contents and colors. Turner Japanesque Colors - A special Turner Acryl Gouache line, based…
FROM
$10.09 - $179.99
LIST:$48.25 - $698.00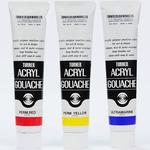 …or for a luscious gloss finish use Turner Gloss Varnish. Turner from Japan makes the highest quality and most cherished colors and is used by the most famous artists and illustrators from that region in the world and around the world. For the Turner Acryl Gouache color chart: Click Here > Incredible…
FROM
$1.99 - $3.99
LIST:$9.95 - $59.95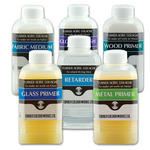 Coarse Gel - Builds up surface and texture. Fabric Medium - For safe adhesion to fabrics. Gesso - Used to prepare white substrates. Glass Primer - For safe adhesion to glass. Gloss Medium - To make work glossier and more transparent. Gloss Varnish - Can be used as a final coat to add gloss on art…
FROM
$9.99
LIST:$26.95 - $41.95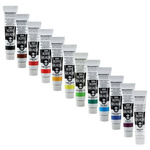 More details coming soon . . .
FROM
$1.00 - $2.00
LIST:$5.50 - $19.95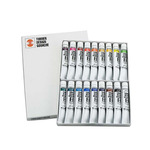 …all of your favorite watercolors! * Used by textile and graphic designers for over 50 years! Turner Design Gouache is considered as one of the world's premier opaque watercolors. Much of Turner's fame comes from this line of color used by New York textile designers, graphic designers and artists…
FROM
$44.99 - $89.99
LIST:$142.25 - $345.99


The world's finest color for sign painting and stage design! For over 60 years, Turner Colour Works has been a trusted name in fine art supplies. In 1956, they launched one of the first paint lines specifically designed for stage, sign, mural, and outdoor use Neo Color. Neo Color paints are a…
FROM
$3.99 - $19.99
LIST:$14.50 - $53.95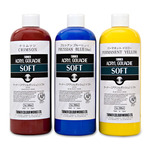 …acrylic and gouache in a soft bodied formula, with the best qualities of each! Turner s Acryl Gouache Soft Formula has an amazing range of color offerings, rarely found in gouache or acrylic lines. The paint pigment load is filled to the max, as the addition of acrylic polymer to the gouache allows…
FROM
$14.99 - $29.99
LIST:$65.95 - $131.95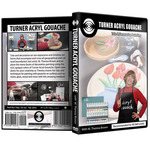 …painting using the rich, opaque colors of Turner Acryl Gouache. Open new doors for your creativity as Theresa shares her tips and techniques for painting with gouache on surfaces such as stone, glass, wood and more with this amazing medium! "Turner Neo Color: Urban Art & Design" DVD with…
FROM
$6.99
LIST:$29.99

Prove it! - Can one 500ml bottle of Acryl Gouache Soft Formula cover 76 sq feet of canvas? Turner Paints claims that one 500 ml bottle of Acryl Gouache Soft Formula will cover over 76 square feet of canvas. In this video, Mikey G sets out to put the paint to the test and Prove It!, Taking three…
…on a glass vase! Using Turner Acryl Gouache colors and the Turner Glass Primer, she will show you how to create a unique piece of art for your home, or make a friend happy with a personalized gift! This lesson is an excerpt from her upcoming DVD, Turner Acryl Gouache: Tole and Decorative Art.
…20ML Turner Acryl Gouache Titanium WhiteTurner Acryl Gouache 11ml Burnt SiennaTurner Acryl Gouache 11ml Cobalt BlueTurner Acryl Gouache 11ml Permanent Green MiddleTurner Acryl Gouache 11ml Permanent YellowTurner Acryl Gouache 11ml Permanent ScarletTurner Acryl Gouache 11ml BlackTurner Acryl Gouache…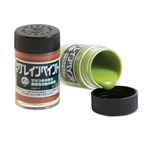 These items have been discontinued. Please see these recommended items: World's Finest, Fast-Drying, Brilliant Matte Acrylics! Turner Acryl Gouache >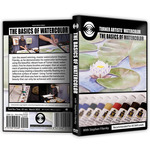 "Turner Artists' Watercolor: The Basic of Watercolor" DVD with Stephen Filarsky - 63 minutes | Get Supply List Join the award winning, master watercolorist Stephen Filarsky, as he demonstrated his watercolor techniques using the beautiful, vibrant hues of Turner Artists' Watercolors. First he shares…
FROM
$6.99
LIST:$29.99

Powered by