 Professional quality tracing paper perfect for drafting and overlays! This exceptionally transparent tracing paper is ideal for all drafting and design techniques. The smooth, scrape-resistant surface holds detail extremely well, and erases cleanly without smudging. Well suited for graphite, ink,…
FROM
$6.00 - $22.88
LIST:$7.45 - $25.95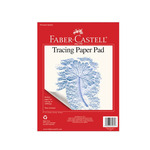 Ideal for tracing your favorite photo or drawing! The perfect paper for tracing or rubbing, Faber-Castell's tracing paper is tear resistant and made from recycled materials. This Tracing Paper Pad has 40 sheets of 9"x12" paper. The paper is made from 50% post consumer recycled materials. Key…
FROM
$4.49
LIST:$5.00 …fun projects to get you started. Get started creating with these great options from Strathmore's 100 Series for kids!* Tracing Paper Semi-transparent parchment paper for tracing and sketching. 9x12" tape-bound pads with 40 sheets.* Doodle Paper White paper pad ideal for doodling and sketching in…
FROM
$3.18 - $6.79
LIST:$3.55 - $9.29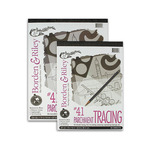 This parchment quality transparent sheet has a good hard surface and medium weight, making it good for overlays, tracings, sketches and protection for layouts. Will accept graphite, color pencils, markers, pen and ink. 50 sheet pads.
FROM
$6.99 - $25.39
LIST:$8.74 - $30.29

Union Square Vellum Tracing Paper is a rigid, semi-transparent, acid-free sheet, which accepts all types of pencils, drawing pens and inks. Check out the entire line of Union Square papers, available exclusively at Jerry's Artarama - …
Learn how to trace your screenprinting design with artist Tonya Hill.
…trace? In the first part of this video, I will break down for you the times that I find tracing totally acceptable and times that tracing only means cheating yourself. Allow me to open up a whole new world of guiltless tracing for you. In the second part I will introduce you to the 3 P's of tracing…
Powered by