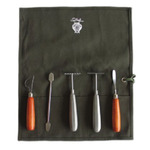 …Scraper, a Medium Straight Scraper, and a Medium Spatula, all rolled up in a convenient canvas case. The Advanced Tool Set includes Skew Texture, Double-End Texture, Loop Scraper, Chrome Burnisher, Medium Straight Scraper, 7-Tooth Scraper, and Medium Spatula tools all in a lovely leather roll.
FROM
$8.99 - $86.39
LIST:$10.00 - $96.00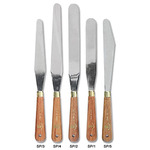 Painter's Edge Painting Spatulas feature the same stainless steel blades as Painter's Edge Painting Knives. They also have the same high quality, finished wood handles and brass collars. The longer and stiffer blades of the spatula are ideal for paint mixing.
FROM
$10.49
LIST:$15.75


Powered by