There were no results that contained
all
of the words in your query. These results contain
some
of the words.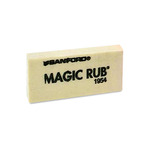 Vinyl eraser lifts graphite right off the paper surface without grimy residue. It's the new, neat way to erase quickly and surely. Minimum Quantity: 4
FROM
$2.99
LIST:$4.50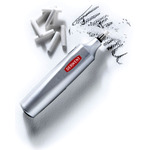 * Heavy duty eraser refines marks & amends small areas. * Long-lasting erasers are easy to replace * Top mounted on/off button is perfect for both right & left-handed use * Comfortable to hold * Requires 2 AAA batteries (not included)
FROM
$1.88 - $9.30
LIST:$2.69 - $13.29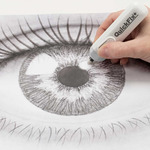 …of the 5mm eraser allows erasing of very precise areas with very little pressure. A turbine of power produces a super rotating action, which allows the soft rubber eraser refill to erase quickly without tearing even the most gentle paper surfaces. Erase what you want without erasing what you…
FROM
$3.19
LIST:$8.95 The world's most popular white vinyl eraser that won't damage your paper. Easy to brush away since it strings and leaves paper clean. Sold in packs of 4. Standard Size: 2-1/2 × 7/8 × 1/2". 
FROM
$5.79
LIST:$7.80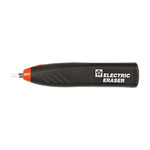 …was a perfect tool for professional artists and draftsmen since it weighs only 2.8 oz, was easy to hold and to control and compact, fitting conveniently in to one of our briefcases and even in one of our pockets. This unit comes with two AAA batteries, extra eraser chucks and twenty eraser refills.
FROM
$7.99 - $37.49
LIST:$10.00 - $49.99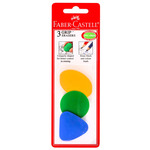 Erasing your mistakes has never felt so good than with this ergonomic eraser! This ergonomically designed and modern eraser is the perfect fit any hand, child or adult's. Made from the same materials, the Faber-Castell GRIP Eraser is available in two different shapes. The GRIP Radierer Eraser…
FROM
$2.89
LIST:$3.00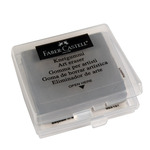 …all your mistakes the easy way! Nothing works better for correcting pencil, colored pencil, pastel or charcoal than the Faber-Castell Kneaded Eraser. They are easily kneadable and will not leave any residue or mess behind. Available with a clear, carrying case, they can also be used for highlighting…
FROM
$1.29
LIST:$1.35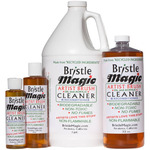 Eco-friendly, non-toxic cleaner restores brushes — like magic! Now painters no longer have to worry about hazardous fumes and toxic cleansers when cleaning their valuable paint brushes. Bristle Magic is a non-toxic brush cleaner and reconditioner perfect for cleaning both wet oil paint and wet…
FROM
$5.69 - $45.82
LIST:$6.49 - $54.99 …subjects and landscapes. Through a play of glasses and mirrors the image is reflected onto your painting surface being viewed from the front "Magic" window. Just easily follow the contour of the reflected image with pencil for a perfect drawing. Use it in or out of the studio. It easily attaches…
FROM
$99.99
LIST:$132.95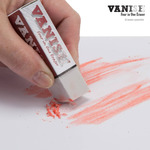 …erasers! The Vanish 4 in 1 Eraser has a unique, flexible composition that can erase anything from graphite to charcoal, colored pencil to pastels! You no longer need a box full of erasers for one drawing: the Vanish replaces gum erasers, hard rubber erasers, vinyl erasers, even soft kneaded erasers.…
FROM
$1.19
LIST:$2.15 - $64.50 Air Eraser Kit - Operates like a small sand blaster capable of a great deal of accuracy. Operates on pressure ranges from 30-45 PSI. Sold with hardened stainless steel tip, cup assembly cover, hanger, wrench, one jar of AEX-6 Fast Cutting compound, 4 ft air hose with moisture trap and 5 disposable…
FROM
$6.00 - $73.96
LIST:$5.50 - $83.00
The Magic Palette Color Mixing Guides - Color Matching Guide, Personal Mixing Guide & Studio Color Mixing Guide The Magic Palette Color Mixing Guides were created by Dee Solin, an accomplished artist and colorist, who works with oil on canvas and uses color extensively in her work. She created the…
FROM
$9.59 - $23.99
LIST:$12.00 - $30.00
… Firstly, well, it's me being me… Secondly, I make a HUGE error!  This is a 4 in 1 eraser, and I get 1 of the 4 completely wrong.  Turns out the 4th eraser it is supposed to substitute is a SOAP eraser, not an EGG eraser… which makes a lot more sense when you think about it.  Maybe I shouldn't beat…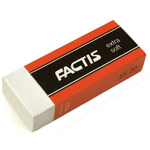 …these erasers are non-smudging and non-abrasive.  A must-have for every pencil box!* ES 20 - Extra soft white vinyl eraser for use with graphite sticks, soft graphite pencils, charcoal and pastels on all paper surfaces.  Won't smudge or smear; exceptionally gentle. * Magic Black - Ideal for erasing…
FROM
$0.89 - $12.79
LIST:$0.99 - $19.80
There were no results that contained
all
of the words in your query. These results contain
some
of the words.
Powered by