…you to work over designs as well. Fineline Super Nib Masking Fluid Pen - Features an ultra-fine, all-metal 0.5mm nib for getting the most precise lines and control. Finleline Masking Fluid Super Set - Includes an Artist Masking Fluid Pen, a Super Nib and a 1.25 oz. refill bottle of masking fluid.
FROM
$8.59 - $31.29
LIST:$9.95 - $41.25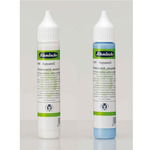 …of masking out details in your watercolor paintings with safe, ammonia-free Schmincke Aqua Masking Fluid Pens! Key Features: * Ammonia-free masking fluid * Squeeze bottle & fine line tip * 25ml of either blue or colorless fluid * Non-permanent if removed within 2 days Perfect For: * Masking fine…
FROM
$11.60
LIST:$15.95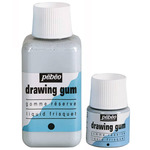 May be used with brush or masking fluid pen. Fine consistency makes it easier to draw with for making reserve works. To remove, just peel or lift with rubber cement pick up. Does not stain the paper surface. Available in 45 ml and 250 ml jar.
FROM
$6.85 - $22.10
LIST:$7.95 - $24.75
Powered by