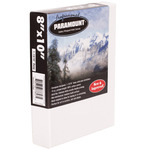 …cotton canvas or your money back! Paramount gallery wrapped professional artist canvas are the heaviest weight cotton canvas we offer with an isolating layer of sizing and 3 coats of priming. The best commercial cotton canvas you can buy. Popular Paramount Professional Gallery Wrap Canvas has…
FROM
$11.79 - $328.67
LIST:$25.25 - $1198.95



…gallery wrap bars, and will not bend or warp with time. Measuring a generous 2 1/4" deep, there is no need to frame canvases stretched on these bars: simply paint the edges and hang as-is. Stretching your canvas is a breeze as well with these beautifully manufactured bars; by wrapping the canvas…
FROM
$4.19 - $63.89
LIST:$8.20 - $122.20
Paramount Professional Canvas is designed to take both thick and thin paint layering in acrylics, oils and alkyds. For artists looking for sturdy, superior grade stretched canvas, Paramount Pro is the way to go!
Paramount Pro Gallery Wrap Canvas was designed for artists who require a heavy duty canvas and bracing system made to professional standards. Paramount Pro features double-primed, acid-free, 100% cotton canvas stretched onto 1-13/16" deep solid pine stretcher bars with an innovative L-shaped design.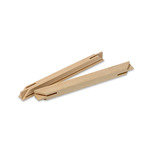 …these give you the chance to buy a more archival strip at a reasonable cost. Square strips measure 1-3/8" high and 1-3/8" wide, and have a full contoured edge so taut canvases have a perfect "give" when painting. Made of kiln dried pine.  Please note: A minimum purchase of 2 boxes is required.
FROM
$29.38 - $159.75
LIST:$35.52 - $211.92
…brace bracket is the ideal way to support a stretched canvas. We recommend using cross braces for any canvas over 36". * State of the art design works with all sizes of stretcher bars * Slotted design allows for finest adjustment of canvas tension * Available in lengths up to 120" * Easy to use…
FROM
$1.99 - $46.69
LIST:$3.95 - $84.95
Powered by