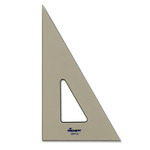 Non yellowing, durable clear acrylic for long life and smooth pencil action. Edges are machined and polished to micro tolerances from precision stock. Clear scholastic grade.
FROM
$8.89 - $11.49
LIST:$12.30 - $16.45
Clear acrylic with smooth edges.  Protractor section is graduated in 1/2 degree increments.  Packaged in individual box.
FROM
$25.89
LIST:$37.00
Powered by