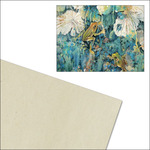 This basic acid-free traditional rice paper is 26 grams in weight and is 70 × 114cm (approximately 27.5" × 45") in size. It has a lovely off white color. Sold rolled in packages of 5 sheets.
FROM
$9.19
LIST:$14.75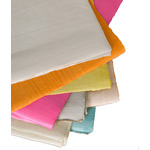 …techniques Shell Paper is a multi-media paper made with actual shell emulsion, specially designed to accept acrylics, watercolors, inks, pastels, and even oil pastels! The paper mounts easily to any board surface to make unique plein air painting boards. Imported from Vietnam, this paper is sure to…
FROM
$4.99 - $29.99
LIST:$18.67 - $124.75

This paper has micro mica sparkles that give a bit of luster to the art. Sheets are 66 x 131.5cm (approximately 26" x 52") in size. Paper has a nice off white tone. Sold rolled in packages of 5 sheets.
FROM
$10.19
LIST:$16.95


Powered by