 PITT Big Brush Pen holds much more ink than the standard size! PITT Artist Pens contain the same high-quality pigmented India Ink as the original PITT Artist Pens, but with Big Brush nibs for full coverage or narrow, detailed strokes. Each Big Brush pen contains four times the amount of ink found in…
FROM
$3.29 - $13.19
LIST:$6.00 - $24.00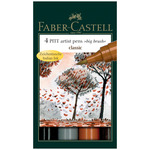 PITT Big Brush Pen holds much more ink than the standard size! This big brush pen is filled with pigmented drawing ink that is extremely lightfast and waterproof. These long lasting pens are convenient to use and all are pH neutral and acid-free. A unique brush point ensures an even flow of ink,…
Join professional artist Dan Nelson for a free art lesson on using a big brush.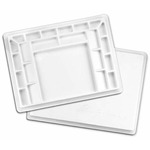 Accommodates Brushes Up To 2" Wide! * Allows quick transitions between pre-mixed glazing colors  * Allows pre-mixing of up to 8 glazing washes plus 14 colors * Large slanting wells allow the color mix to retain longer life than when mixing on a flat surface This ingenious palettes combines 14…
FROM
$11.99
LIST:$32.95

Join professional artist Bob Rankin as he shows you the basics of how to use his Big Bad Brush.
…exciting free art lesson, professional artist Bill Buchman demonstrates how to effectively use a Sumi-E brush in figure drawing. Using his own line of Zen Brushes, Bill paints wide lines and big shapes to paint the main contours of the female body. This is an excellent art project for any artist…
Powered by